Gigs! Back On Top Down Under tour – June 2018: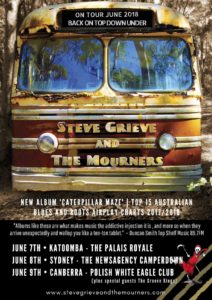 Breaking news:
The new album Caterpillar Maze nominated in top four Independent Blues Broadcaster's Association Presenter's Picks of the Month May 2018
And has debuted on the IBBA (UK) Top 40 Airplay Charts at #13
www.bluesbroadcasters.co.uk/top40
Caterpillar Maze top 25 on the Australian Blues and Roots Airplay Charts every month since launch Dec 2017
www.abarac.com.au/australian-chart-2018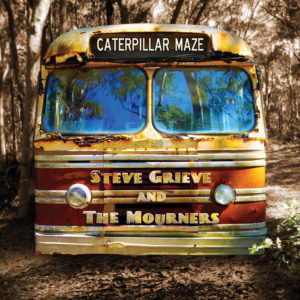 "I like it a lot!" – Max Merritt
"Get outta my way." – Johnny Winter
"Y'all look like y'sound real good anyhow." – Lonnie Mack
"Get off." – Hunters and Collectors
"…a brilliant album, classic rock blues groove and punches all the right buttons.
Fine song writing and great production and of course fantastic musicianship from all the players. You should be very proud of it." – David Roman, The Mystery Train 2SSRFM 99.7

"Caterpillar Maze had a slightly protracted birth for Steve Grieve and The Mourners. The fact it has been delivered lovingly into this world is something we should all be very grateful for. From track 1 all the way to the final strains of song 12, the sheer excellence of the music continues unabated. Steve Grieve coaxes the tastiest , most exemplary six string embellishments you could wish for , whilst Dan Myles seasoned vocals are the perfect vehicle for the mainly co-written tunes and he has just the right amount of throaty rasp too. Albums like these are what makes music the addictive injection it is, and more so when they arrive unexpectedly & wallop you like a ten ton tablet. There are shards of Steely Dan , a whiff of Little Feat but predominantly I hear Saratoga's Animal Liberation Orchestra if we must conjure up likenesses. More importantly I hear supremely solid song-craft & the work of stellar musicians who combine like sugar & spice. Sweet…..most definitely. Sour…never for a second."
– Duncan Smith Top Shelf Music 89.7FM
Like our beautiful old bus, this record has travelled a long and at times arduous road. Much of it was written sitting around kitchen tables, sandwiched between reunions, rehearsals and gigs, driving from Sydney to Canberra, the South Coast to Bellingen and Byron Bay, amid much chaos, improbable hilarity and the odd respectable ale or two.
The Mourners remains an enigmatic, sometimes frustrating, yet strangely compelling collaboration which allows us to get together once in an intense while and really play, to put on funny clothes, turn up the volume, bounce off some walls together, and against all the odds bang out some new tunes. If you derive at least as much pleasure and satisfaction from this music as we did in making it, our job will have been not only brilliantly conceived but also well executed – this, our emergent chrysalis, our collective escape from the Caterpillar Maze.
Back On Top.